2024 Hyundai Kona
Stepping into its second generation, the 2024 Hyundai Kona showcases a plethora of engine options for potential buyers, notably an all-electric variant with a 418-kilometre range. Along with its fully electric version, the Kona will offer two other powertrain options, including the dynamic N Line model, addressing diverse tastes in the compact SUV category. This revamped Kona boasts a roomier interior, a head-turning modern exterior, and a suite of state-of-the-art technologies, making it the safest and tech-savvy Kona yet.
Eye-catching Design
The 2024 Hyundai Kona is striking with its one-of-a-kind design that's certain to catch the eye.
Exterior
First crafted as an electric vehicle, the new Kona showcases a sleek, modern, and sophisticated exterior style. This Kona model is also longer and wider than previous versions, boasting a length of 4,350 mm and a wheelbase that's stretched by 60 mm. Additionally, its width has grown to 1,825 mm, highlighting not just a powerful road presence, but also giving you more room inside.
Hyundai's ability to fuse performance with design is demonstrated in the 2024 Kona Electric's impressive drag coefficient of just 0.27. The aerodynamic efficiency is showcased in the Kona's streamlined nose and back tailgate style. The striking chrome lines that run from the belt line to the rear spoiler, in conjunction with the incorporated centre high-mounted stop lamp, further improves its bold appearance.
The 2024 Hyundai Kona Electric variant introduces state-of-the-art lighting components, addint to its exceptional look. The Pixelated Seamless Horizon Lamp and Pixel graphics provide a new and modern touch. These distinct lighting characteristics, combined with an array of vibrant exterior color options, ensure the new Kona stands out amidst the rest. Hyundai has made certain that the Kona's exterior resonates with a variety of clients that embody the active and varied lifestyles and tastes of its future owners.
Interior
Hyundai has revolutionized the conventional notion of interior space in compact sport utility vehicles with the 2024 Kona. Hyundai has designed the Kona to cater to a variety of needs, while also offering a spacious passenger area. The dashboard stands out as a remarkable feature, boasting a sleek floating horizontal C-Pad that houses dual 12.3-inch panoramic displays for the multimedia system and digital instrument cluster. This modern design ensures easy user interaction with the array of new features.
Efficiency and ergonomics are key elements of the Kona's new interior layout. The placement of the shift-by-wire gear selector is a strategic move, freeing up valuable console space and allowing for more ergonomic driver controls and expanded centre console space. Innovations such as a rotational cup holder highlight the console's utility. Additionally, slimmer front seats provide ample legroom for rear passengers while the Curveless Bench Seat in the second row ensures comfortable seating for all. The second-row seats can be fully folded for maximum cargo space, offering a generous capacity of 723 litres, expandable up to a remarkable 1803 litres.
Digital Key
The Hyundai Kona is equipped with advanced technology that provides innovative connectivity features. It introduces the advanced Digital Key 2 system, enabling owners to lock, unlock, and even start their vehicles with their NFC-enabled smartphones or smartwatches. Moreover, the Digital Key 2 system allows owners to share access to their Kona with friends and family remotely. The Surround View Monitor also provides selectable viewpoints that ensure the highest level of visibility when parking the Kona or when navigating tight spots. The new system can be used to spot sidewalks or have a better view of what is in front of the Kona.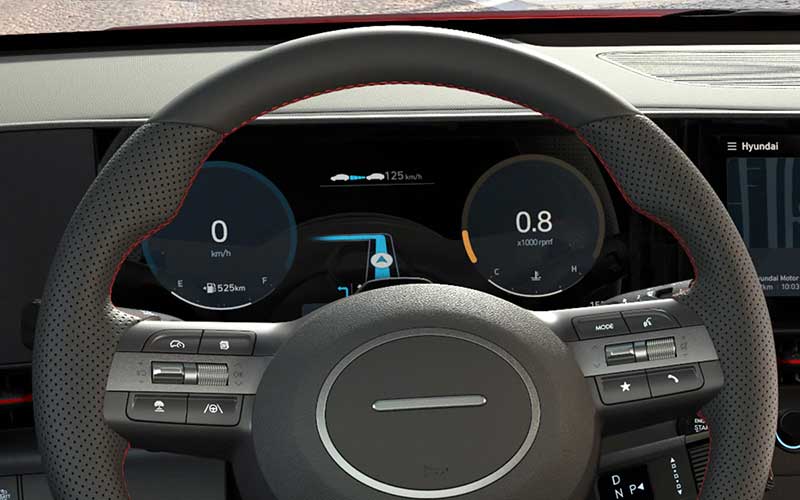 Features
The Kona Electric offers distinct technological features, including a front trunk storage, dynamic grille shutters, and the ground-breaking Vehicle-to-Load (V2L) function that enables bi-directional charging and can be a lifeline during a power outage or when you are camping with the family. It also features the i-PEDAL, a single acceleration pedal that allows drivers to slow down, stop, and accelerate their vehicle using just the accelerator. Complementing this is the Smart Regenerative System that adapts to traffic patterns in real-time, optimizing the vehicle's regenerative braking capabilities. The new Kona is a technological marvel that ensures optimal safety, comfort, and convenience.
New Versions
Aside from its aesthetic appeal, the second-generation Kona is also equipped with a range of sophisticated technologies. These advancements make the new-generation SUV the safest and most connected Kona yet. This ensures that the driver and their passengers are well-protected and always in touch with the world around them. Overall, the 2024 Hyundai Kona offers everything that made the previous Kona so successful, and more.
Engine
The 2024 Hyundai Kona's powertrain lineup provides a perfect blend of power and efficiency. It offers two traditional engines and a fully electric powertrain with class-leading range. The 2.0-litre 4-cylinder Atkinson engine promises efficiency and an optimal balance of quick accelerations and fuel economy with 147 horsepower.
Kona N Line
The Kona N Line steps up the game with a turbocharged 1.6-litre 4-cylinder engine that guarantees a swift response for those who desire a sporty driving experience. With 195 horsepower and 195 pound-feet of torque, this new turbocharged powertrain delivers more power than the previous turbo.
Kona Electric
The 2024 Hyundai Kona Electric features a fully electric powertrain with a 64.8-kWh battery that provides a range of up to 418 kilometres along with fast-charging capabilities.
Kona Electric Charging
The new Kona Electric can charge from 10% to 80% in just 43 minutes. The electric powertrain delivers 201 horsepower and 188 lb.-ft of torque delivered when you touch the accelerator for unwavering control and performance.
Frequently Asked Questions about the 2024 Hyundai Kona
The 2024 Hyundai Kona is on sale now.
The 2024 Hyundai Kona is offered in multiple versions.
Essential FWD (Front-Wheel Drive): $25,999
Essential AWD (All-Wheel Drive): $27,999
Preferred FWD (Front-Wheel Drive): $28,499
Preferred AWD (All-Wheel Drive): $30,499
Preferred AWD Trend (All-Wheel Drive): $32,499
N Line AWD (All-Wheel Drive): $35,499
N Line Ultimate AWD (All-Wheel Drive): $38,499
Pricing for the 2024 Hyundai Kona Electric has not yet been released, but expect it to be eligible for both Canadian and provincial electric vehicle rebates.